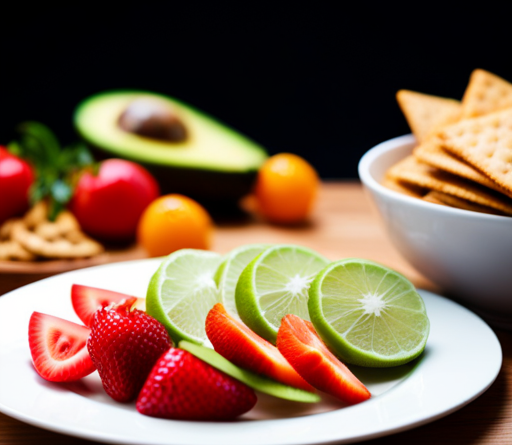 Are you tired of spending hours in the kitchen preparing elaborate meals? Look no further!
This article presents you with a collection of healthy 3 ingredient recipes that are not only easy to make but also delicious and nutritious.
Whether you're looking for quick breakfast options, satisfying snack ideas, or guilt-free dessert recipes, we've got you covered.
With these recipes, you can enjoy tasty meals while keeping your health in mind.
Say goodbye to complicated cooking and hello to simplicity and flavor!
Breakfast Options

Start your day off right with these easy and nutritious 3 ingredient breakfast recipes. When it comes to breakfast, it's important to choose options that aren't only quick and convenient but also provide essential nutrients to fuel your day. Luckily, there are plenty of simple recipes that fit the bill.
One easy and quick breakfast option is a banana oat pancake. All you need is a ripe banana, oats, and an egg. Mash the banana, add in the oats, and mix in the egg. Cook the batter on a non-stick pan until golden brown, and you have a delicious and nutritious pancake ready to enjoy. This recipe is packed with fiber from the oats and potassium from the banana, providing a great start to your day.
Another nutritious breakfast option is a yogurt parfait. Simply layer Greek yogurt, fresh berries, and granola in a glass or bowl. Greek yogurt is high in protein, which helps keep you feeling full and satisfied, while the berries provide antioxidants and the granola adds a satisfying crunch. This breakfast isn't only easy to make but also provides a balance of carbohydrates, protein, and healthy fats.
Snack Ideas
For a quick and satisfying snack, try these 3 ingredient recipes that are both nutritious and delicious. When it comes to snacking, it's important to choose options that aren't only easy to make but also healthy. Here are some quick and easy snack ideas that can be prepared with just three ingredients, providing you with healthy snack alternatives.
Banana and Peanut Butter Bites:
Slice a banana into rounds and spread a small amount of peanut butter on each slice. This combination offers a good balance of carbohydrates, healthy fats, and protein, making it a filling and nutritious snack.

Greek Yogurt and Berries:
Take a cup of Greek yogurt and top it with a handful of fresh berries. Greek yogurt is high in protein and calcium, while berries are packed with antioxidants and fiber. This snack isn't only delicious but also provides essential nutrients.

Cucumber and Hummus Dippers:
Cut cucumber into sticks and serve them with a side of hummus. Cucumbers are hydrating and low in calories, while hummus adds protein and healthy fats. It's a refreshing and nutritious snack option.
These quick and easy snack ideas are a great way to satisfy your hunger between meals without compromising your health. Give them a try and enjoy a guilt-free snacking experience.
Dessert Recipes
To continue with our exploration of healthy 3 ingredient recipes, let's dive into some delicious dessert options. Who says you can't enjoy simple treats while maintaining a guilt-free indulgence? With just three ingredients, you can satisfy your sweet tooth without compromising your health goals.
One delightful option is banana ice cream. All you need is ripe bananas, a splash of milk, and a touch of vanilla extract. Simply blend the frozen bananas with the milk and vanilla until smooth, and voila! You have a creamy and naturally sweet treat that's low in calories and high in potassium.
If you're a fan of chocolate, try making chocolate avocado mousse. Blend ripe avocados, unsweetened cocoa powder, and a natural sweetener like honey or maple syrup. The result is a rich and creamy dessert packed with healthy fats and antioxidants.

For those craving a fruity dessert, try frozen berry yogurt bites. Mix Greek yogurt with your favorite berries, spoon the mixture onto a lined baking sheet, and freeze until firm. These bite-sized treats aren't only refreshing but also provide a good source of protein and vitamins.
Frequently Asked Questions
Are These Recipes Suitable for People With Dietary Restrictions or Allergies?
Can these recipes be modified for vegan diets and are there any low sodium options available? Yes, these recipes can be easily modified for vegan diets by substituting animal-based ingredients. Additionally, low sodium options can be achieved by reducing or eliminating added salt.
Can These Recipes Be Made in Advance and Stored for Later Consumption?
Yes, these recipes can be made in advance and stored for later consumption. They can be frozen for convenience and reheated easily when needed, making it a convenient option for busy individuals.
Can I Substitute Any of the Ingredients in These Recipes?
You have the freedom to swap ingredients and explore different taste variations in these recipes. Don't be afraid to experiment and find substitutes that suit your preferences and dietary needs.
Are These Recipes Suitable for Children?
These recipes can be suitable for children, especially picky eaters. You can modify them to meet different taste preferences. They are simple and healthy options that prioritize safety and nutrition.
How Long Does It Take to Prepare These Recipes on Average?
On average, it takes about 20 minutes to prepare these recipes. They are quick and easy, perfect for busy days. Serve them with a side of vegetables for a nutritious meal.
Conclusion
So there you have it, folks! With these 3 ingredient recipes, you can whip up a delicious and healthy breakfast, snack, or dessert in no time. Who knew eating well could be so easy?
Say goodbye to complicated recipes and hello to simplicity. These recipes prove that you don't need a long list of ingredients to create something tasty and nutritious.
So go ahead, give them a try and let your taste buds do a happy dance!